Getting To Know Us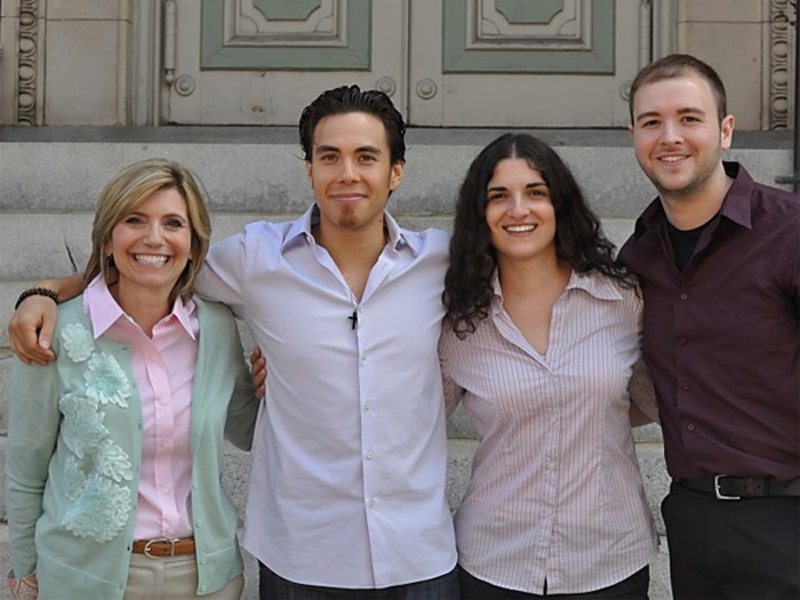 Our program is unique, in the following ways:
Our program teaches students from grade 4 through high school.
We have two professional teachers for each class, to meet the needs of the students and model the dance steps.
For live teaching in schools, the students compete with other students in their class, not other schools.
For virtual classes, all students are engaged in the history, affect and styles of the four dances.
All students receive medals.
We have performed for the Philadelphia Phillies, the Philadelphia Sixers, the Charity Ball (2009, 2010) and we were one of ten groups to dance at the Festival of Francis when Pope Francis visited Philadelphia.
We are now teaching students in schools in Philadelphia, PA, Lexington, KY and Los Angeles, CA.
Our History
Dancing with the Students began in 2005 at the Gesu School in Philadelphia, PA, with two classes of fifth graders.
At the end of the Week 10 Grand Finale, the students were asked, "What did you learn?" Three students' hands went up.
A ten year old boy replied, "Respect for women."
A ten year old girl replied, "I have more confidence."
A ten year old girl replied, "I know how to waltz now!"
And just like that, Dancing with the Students was born. As we enter into our 15th year, hundreds of students have danced their way into our hearts, in three different states, in over 20 schools.
With the artistic direction of Samantha Bellomo, Dancing With The Students has developed into a non-profit organization that offers ballroom dance instruction to students in grades five through nine, in various schools located in and around the Philadelphia area. A 10-week program in Waltz, Swing, Tango, and Merengue is taught by qualified ballroom instructors with emphasis placed on "personal flare," with each child bringing their own personality and style to each dance. Manners, respect, and etiquette are also emphasized.
In 2009, Dancing with the Students Troupe was created. These high school students have performed at the Charity Ball at the Union League, at the Philadelphia 76ers games, and the Storybook Ball at the Please Touch Museum.
Today, Dancing with the Students is a successful local Philadelphia community program. Our students have shown their dancing talents and performed all over Philadelphia. They will continue to share the joy that dancing has brought to their lives.
Our Teachers
Dancing with the Students would not be the success it is without the many gifted professional artists in our company. We have many award winner actors, dancers and choreographers in our dance family.