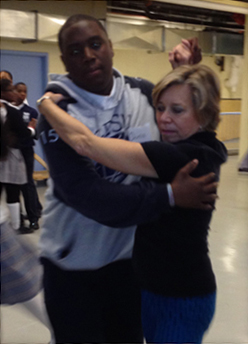 Dancing Queens are a critical part of the Dancing with the Students program. These volunteers become partners with the students. When a student's partner is absent and/or there may be more boys or girls in a class, a Dancing Queen becomes his/her partner for the class.
Some weeks, they may dance the "lady's" steps… some weeks, they may dance the "gentleman's" steps… but every week, our Dancing Queens are guaranteed to have SO much fun!!
Are you thinking, "What if I do not know how to do the waltz, tango, merengue or swing?"
Not a problem! Our dance instructors provide free instruction and training to our Dancing Queens and Dancing Kings, too!
Interested in becoming a Dancing Queen (or King)? Click here to download our application form.
For questions about becoming a Dancing Queen or Dancing King, click here!
"I love to dance…that exercise is medicine. It's better than most pills."
—Dr. Regina Benjamin, U.S. Surgeon General
"Monday was my favorite day of the week because I got to do "Dancing With the Students" at 2 different schools with some wonderful and very appreciative students. It was fun getting to know and develop a relationship with some of the kids. This is an incredibly rewarding volunteer opportunity that also helps you stay in shape, get a good workout and learn ballroom dance steps."
"I LOVE getting to know the kids! And I LOVE seeing how much better they get each week! And I LOVE seeing them treating each other with more respect. And I LOVE seeing them perform on the final day all dressed and looking beautiful and handsome!"
"I have always loved to dance and there is nothing more gratifying than seeing the smiles and joy demonstrated by the students when they become comfortable with the dance steps. It promotes confidence and respect for others and we all have so much fun."
"Every Wednesday is such a treat..learning these amazing dances and loving these amazing kids. Grand Finale always makes me cry!"
"I really enjoy the special time with the wonderful and talented students!"
"I enjoyed getting together every week with these special enthusiastic kids. I learned so many fun dances with them!! Of course they had to remind me of them each and every week and they did!"
"Working with the students and watching them progress from tentative to self-assured, enthusiastic "dancing stars" is amazing and so much fun for all of us!"
"Watching the students trying so hard to learn their steps and be so proud of their success on recital day as their parents gather to watch them perform warms my heart in such a special way."