Dancing With the Students Bracelets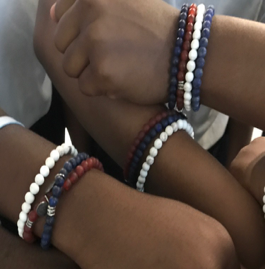 Dancing With The Students began in 2006 with one school and one teacher. We are now in 20 schools in underserved areas, in two states, with 15 teachers!
You have the opportunity to be a huge part of this program by helping us with a unique fundraiser. Dancing With The Students is only possible because of donations. As a 501c[3] nonprofit organization, your donation is fully tax-deductible while purchasing beautiful bracelets.
These bracelets are made by Rivet Revolution and can be purchased for $40 each or 3 for $100. Tax and shipping costs are included. They come in shades of red, white and blue. You can see these bracelets above on some of the students who are part of the program. They all have a beautiful charm of two dancers.
Your entire purchase will be donated to Dancing With The Students. Just think – you will have a gorgeous bracelet or bracelets, a tax deduction for your income tax and you will be supporting students learn to dance. All you need to do is choose a color (red, white or blue) and a size (S/M or M/L) and let us know how many you would like. I wear all three colors… and so do my sons!